100% Pure Fruit Pigmented Lip & Cheek Tint: Shimmery Cocoa Berry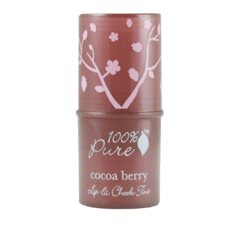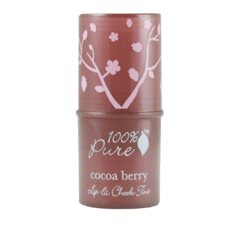 100% Pure Fruit Pigmented Lip & Cheek Tint: Shimmery Cocoa Berry
100% Natural formula was designed to be used as a cream blush and a lip tint. Pure fruit pigments in a base of skin and lip softening and moisturizing shea and cocoa butters. Highly concentrated with anti-aging vitamins and antioxidants.
For Whom
For all (universal). For those who desire a natural hint of color and dewy soft finish.
Directions For Use
For a more natural look, stroke the tint with your fingers and blend onto cheeks, one at a time. For more color, take tint straight to the cheek and pat, then blend with fingers.
Ingredients
Cocoa Butter, Shea Butter, Honey Beeswax, Grapeseed Oil, Vitamin E (a-tocopherol), Vitamin C (ascorbyl palmitate), pigments of Cranberry, Pomegranate, Blackberry, Raspberry, Cabernet Grape, Plum, Strawberry, Cherry, Peach, Apricot, Blueberry, Carrot and Tomato, Strawberry Extract, Mica